Boy Erased
(R)
11/16/2018
Lucas Hedges, Nicole Kidman
- 1 hr. 54 mins.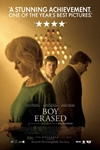 Boy Erased tells the story of Jared (Hedges), the son of a Baptist pastor in a small American town, who is outed to his parents (Kidman and Crowe) at age 19. Jared is faced with an ultimatum: attend a gay conversion therapy program - or be permanently exiled and shunned by his family, friends, and faith. Boy Erased is the true story of one young man's struggle to find himself while being forced to question every aspect of his identity.
Official Site
Trailer
---
A Private War
(R)
11/16/2018
Rosamund Pike, Jamie Dornan
- 1 hr. 46 mins.
Marie Colvin (Rosamund Pike) is the most celebrated war correspondent of our era - a woman as comfortable downing martinis with high-society's elite as she is brazenly staring down warlords and fleeing from gunfire. Driven by an enduring desire to bear witness and give voice to the voiceless, Colvin charges into danger, constantly testing the limits between bravery and bravado. A pulse-pounding story told from the frontlines of the most dangerous battlefields in the world, A PRIVATE WAR chronicles Colvin's extraordinary life.
Official Site
Trailer
---
Exhibition on Screen: Degas - Passion For Perfecti
()
11/18/2018
- 1 hr. 25 mins.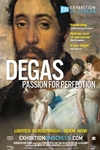 EXHIBITION ON SCREEN journeys from the streets of Paris to the heart of a superb exhibition at the Fitzwilliam Museum in Cambridge, whose extensive collection of Degas' works is the most representative in Britain. With exclusive access to view rare and diverse works, this film tells a fascinating story of Degas' pursuit for perfection through both experimentation with new techniques and lessons learnt from studying the past masters. Sometimes frustrated by his own failings, Degas was consumed by obsessive principles and failing eyesight but his determination to capture everyday life was evident in every mark he made. Never fully satisfied, many of Degas' drawings and sculptures were kept in private during his lifetime but, now through close examination, they can be seen as some of the most beautifully detailed and expressive works in the modern era.
Official Site
Trailer
---
National Theatre Live: The Madness of George III
()
11/20/2018
Mark Gatiss, Adrian Scarborough
- 3 hr. 30 mins.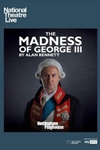 It's 1786 and King George III is the most powerful man in the world. But his behaviour is becoming increasingly erratic as he succumbs to fits of lunacy. With the King's mind unravelling at a dramatic pace, ambitious politicians and the scheming Prince of Wales threaten to undermine the power of the Crown, and expose the fine line between a King and a man.
Official Site
Trailer
---
Green Book
(PG-13)
11/20/2018
Viggo Mortensen, Mahershala Ali
- 2 hr. 10 mins.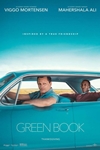 When Tony Lip (Mortensen), a bouncer from an Italian-American neighborhood in the Bronx, is hired to drive Dr. Don Shirley (Ali), a world-class Black pianist, on a concert tour from Manhattan to the Deep South, they must rely on "The Green Book" to guide them to the few establishments that were then safe for African-Americans. Confronted with racism, danger-as well as unexpected humanity and humor-they are forced to set aside differences to survive and thrive on the journey of a lifetime.
Official Site
Trailer
---
Ralph Breaks the Internet
(PG)
11/21/2018
John C. Reilly, Sarah Silverman
- 1 hr. 54 mins.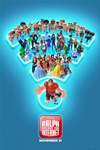 Video-game bad guy Ralph and best friend Vanellope von Schweetz leave the comforts of Litwak's arcade in an attempt to save her game, Sugar Rush. Their quest takes them to the vast, uncharted world of the internet where they rely on the citizens of the internet "the Netizens" to help navigate their way. Lending a virtual hand are Yesss, the head algorithm and the heart and soul of the trend-making site "BuzzzTube," and Shank, a tough-as-nails driver from a gritty online auto-racing game called Slaughter Race, a place Vanellope wholeheartedly embraces - so much so that Ralph worries he may lose the only friend he's ever had.
Official Site
Trailer
---
Maria By Callas
(PG)
11/23/2018
Maria Callas
- 1 hr. 35 mins.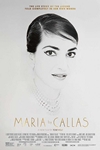 From first time director Tom Volf, MARIA BY CALLAS: IN HER OWN WORDS is the definitive doc on the life and work of the Greek-American opera singer. Volf has spent nearly five years working on the film, which features never before seen or heard footage and performances of Callas.
Official Site
Trailer
---
The King and I: From The London Palladium
(NR)
11/29/2018
Kelli O'Hara, Ken Watanabe
- 2 hr. 40 mins.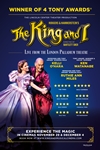 Set in 1860s Bangkok, the musical tells the story of the unconventional and tempestuous relationship that develops between the King of Siam and Anna, a British schoolteacher whom the modernist King, in an imperialistic world, brings to Siam to teach his many wives and children. With one of the finest scores ever written including; Whistle a Happy Tune, Getting to Know You, and Shall We Dance, and featuring a company of over 50 world-class performers, The King and I is a testament to the lavish heritage of gloriously romantic musical theatre - it is the greatest musical from the golden age of musicals.
Official Site
Trailer
---
Bolshoi Ballet: Don Quixote
(NR)
12/2/2018
- 2 hr. 55 mins.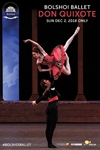 From the Bolshoi Ballet in Moscow, Don Quixote comes to cinemas across the U.S. on Sunday, Dec. 2 only. Inspired by heroic stories of brave knights, with his faithful servant Sancho Panza at his side, Don Quixote sets out on an adventure to meet his ideal woman, Dulcinea. With panache and sparkling technique, principal dancers Ekaterina Krysanova and Semyon Chudin lead the spectacular cast of toreadors, flamenco dancers, gypsies, and dryads in the Bolshoi's critically-acclaimed staging of this exalted performance.
Official Site
Trailer
---
National Theatre Live: Antony & Cleopatra
()
12/6/2018
Ralph Fiennes, Sophie Okonedo
- 3 hr. 40 mins.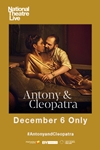 Captured live from the National Theatre, Ralph Fiennes and Sophie Okonedo play Shakespeare's famous fated couple in his great tragedy of politics, passion and power. Caesar and his assassins are dead. General Mark Antony now rules alongside his fellow defenders of Rome. But at the fringes of a war-torn empire the Egyptian Queen Cleopatra and Mark Antony have fallen fiercely in love. In a tragic fight between devotion and duty, obsession becomes a catalyst for war. Director Simon Godwin returns to National Theatre Live with this hotly anticipated production, following broadcasts of Twelfth Night, Man and Superman and The Beaux' Stratagem.
Official Site
Trailer
---
The Favourite
(R)
12/7/2018
Olivia Colman, Emma Stone
- 2 hr. 0 mins.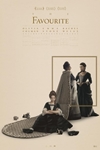 Early 18th century. England is at war with the French. Nevertheless, duck racing and pineapple eating are thriving. A frail Queen Anne occupies the throne and her close friend Lady Sarah governs the country in her stead while tending to Anne's ill health and mercurial temper. When a new servant Abigail arrives, her charm endears her to Sarah. Sarah takes Abigail under her wing and Abigail sees a chance at a return to her aristocratic roots. As the politics of war become quite time consuming for Sarah, Abigail steps into the breach to fill in as the Queen's companion. Their burgeoning friendship gives her a chance to fulfil her ambitions and she will not let woman, man, politics or rabbit stand in her way.
Official Site
Trailer
---
Mary Poppins Returns
(PG)
12/19/2018
Emily Blunt, Lin-Manuel Miranda
-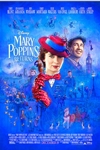 The film is set in 1930s depression-era London (the time period of the original novels) and is drawn from the wealth of material in PL Travers' additional seven books. In the story, Michael (Whishaw) and Jane (Mortimer) are now grown up, with Michael, his three children and their housekeeper, Ellen (Walters), living on Cherry Tree Lane. After Michael suffers a personal loss, the enigmatic nanny Mary Poppins (Blunt) re-enters the lives of the Banks family, and, along with the optimistic street lamplighter Jack (Miranda), uses her unique magical skills to help the family rediscover the joy and wonder missing in their lives. Mary Poppins also introduces the children to a new assortment of colorful and whimsical characters, including her eccentric cousin, Topsy (Streep).
Official Site
Trailer
---
Second Act
()
12/21/2018
Jennifer Lopez, Leah Remini
-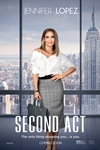 Second Act is a comedy in the vein of Working Girl and Maid In Manhattan. Jennifer Lopez stars as Maya, a 40-year-old woman struggling with frustrations from unfulfilled dreams. Until, that is, she gets the chance to prove to Madison Avenue that street smarts are as valuable as book smarts, and that it is never too late for a Second Act.
Official Site
Trailer
---
Mary Queen of Scots
(R)
12/21/2018
Saoirse Ronan, Margot Robbie
- 1 hr. 52 mins.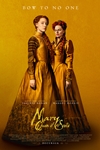 Mary Queen of Scots explores the turbulent life of the charismatic Mary Stuart. Queen of France at 16 and widowed at 18, Mary defies pressure to remarry. Instead, she returns to her native Scotland to reclaim her rightful throne. But Scotland and England fall under the rule of the compelling Elizabeth 1. Each young Queen beholds her "sister" in fear and fascination. Rivals in power and in love, and female regents in a masculine world, the two must decide how to play the game of marriage versus independence. Determined to rule as much more than a figurehead, Mary asserts her claim to the English throne, threatening Elizabeth's sovereignty. Betrayal, rebellion, and conspiracies within each court imperil both thrones - and change the course of history.
Official Site
Trailer
---
Welcome to Marwen
(PG-13)
12/21/2018
Steve Carell, Leslie Mann
-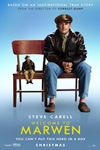 When a devastating attack shatters Mark Hogancamp (Carell) and wipes away all memories, no one expected recovery. Putting together pieces from his old and new life, Mark meticulously creates a wondrous town where he can heal and be heroic. As he builds an astonishing art installation - a testament to the most powerful women he knows - through his fantasy world, he draws strength to triumph in the real one.
In a bold, wondrous and timely film from this revolutionary pioneer of contemporary cinema, Welcome to Marwen shows that when your only weapon is your imagination... you'll find courage in the most unexpected place.
Official Site
Trailer
---
Bolshoi Ballet: The Nutcracker
(NR)
12/23/2018
- 2 hr. 20 mins.
Fathom Events, BY Experience and Pathé Live present a special production of the Bolshoi Ballet's The Nutcracker, direct from Moscow, Russia, to select cinemas nationwide on Sunday, December 17 only. As the clock strikes midnight on Christmas Eve, Marie's wooden nutcracker doll comes to life and transforms into a prince! Soon joined by her other toys that have also come to life, Marie and her prince embark on a dreamy unforgettable adventure. A holiday tradition for the whole family, The Nutcracker enchants the Bolshoi stage for two hours of enchantment and magic.
Official Site
Trailer
---
Bolshoi Ballet: La Bayadere
()
1/20/2019
- 3 hr. 20 mins.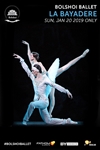 The must-see theatrical event La Bayadere comes to cinemas across the U.S. on Sunday, Jan. 20 only, captured live the same day from the Bolshoi Ballet in Moscow. The temple dancer Nikiya and the warrior Solor fall deeply in love, igniting heated passions and murderous intrigues when the Rajah and his daughter Gamzatti discover Nikiya and Solor's forbidden love. La Bayadere is one of the greatest works in classical ballet history - a story of love, death and vengeful judgment, set in India. Dazzling sets and costumes, with one of the most iconic scenes in ballet, the "Kingdom of the Shades," illuminate the tragic tale of the temple dancer Nikiya's doomed love for the warrior Solor, and their ultimate redemption.
Official Site
Trailer
---
National Theatre Live: I'm Not Running
()
1/31/2019
-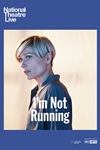 Official Site
Trailer
---
Exhibition on Screen: Young Picasso
()
2/10/2019
- 1 hr. 25 mins.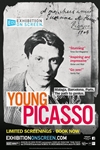 Pablo Picasso is one of the greatest artists of all time - and right up until his death in 1973 he was the most prolific of artists. Many films have dealt with these later years - the art, the affairs and the wide circle of friends. But where did this all begin? What made Picasso in the first place? Too long ignored, it is time to look at the early years of Picasso; the upbringing and the learning that led to his extraordinary achievements.
Three cities play a key role: Malaga, Barcelona and Paris. Young Picasso visits each and explores their influence on Picasso, focusing on specific artworks from these early years. The film thus explains how this young artist acquired his craft. Looking carefully at two key early periods - the so-called Blue Period and Rose Period - the film takes us all the way to 1907 and the creation of a critical painting in the history of art - Les Demoiselles d'Avignon. It was a painting that shocked the art world but changed it irrevocably. Picasso was only 25 years old. Working closely with all three Picasso Museums in Malaga, Barcelona and Paris this film explains how he rose to such great heights.
Official Site
Trailer
---
Van Gogh - Of Wheat Fields and Clouded Skies
(NR)
2/24/2019
Valeria Bruni Tedeschi, Marco Goldin
- 1 hr. 10 mins.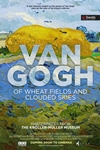 A new look at Van Gogh, through the legacy of the largest private collector of artworks by the Dutch painter: Helene Kröller-Müller (1869-1939), who, in the early 20th Century, ended up buying nearly 300 of his works, paintings and drawings included.
Official Site
Trailer
---
Bolshoi Ballet: The Sleeping Beauty
(NR)
3/10/2019
- 2 hr. 50 mins.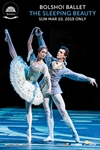 From the Bolshoi Ballet in Moscow comes resplendent fairytale ballet, The Sleeping Beauty, in cinemas nationwide Sunday, March 10 only. On her sixteenth birthday, Princess Aurora falls under the curse of the Evil Fairy Carabosse and into a deep slumber lasting one hundred years. Only the kiss of a prince can break the spell. Classical ballet at its finest, The Sleeping Beauty features scores of magical characters including fairies, the Little Red Riding Hood, Puss in Boots, and a beautiful young Princess Aurora performed by Olga Smirnova, a "truly extraordinary talent" (The Telegraph).
Official Site
Trailer
---
Caravaggio: The Soul and the Blood (Caravaggio - L'anima e il sangue)
(NR)
3/24/2019
Manuel Agnelli
- 1 hr. 30 mins.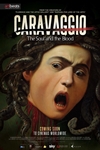 Caravaggio: The Soul and the Blood is an immersive and visually stunning journey of light and shadows through the struggles and successes of the revolutionary and controversial artist, joining him on his travels through Milan, Venice, Rome, Naples, Sicily and Malta as he tries to flee his many demons.
Utilising state-of-the-art cinematic techniques, stunning 4K projection, commentary from leading historical experts and art historians, and unprecedented access to the masterpieces themselves, Caravaggio: The Soul and The Blood is a must-see for any art lover, exclusive to cinemas.
Official Site
Trailer
---
Bolshoi Ballet: The Golden Age
(NR)
4/7/2019
- 2 hr. 20 mins.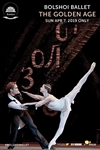 With its jazzy score by Dmitri Shostakovich and its music-hall atmosphere featuring beautiful tangos, The Golden Age is a refreshing and colorful dive into the roaring 20's. From the Bolshoi Ballet in Moscow, The Golden Age comes to cinemas nationwide on Sunday, April 7 only. In the 1920's, The Golden Age cabaret is a favorite nightly haunt. The young fisherman Boris falls in love with Rita. He follows her to the cabaret and realizes that she is the beautiful dancer "Mademoiselle Margot," but also the love interest of the local gangster Yashka. A historic ballet that can be seen only at the Bolshoi!
Official Site
Trailer
---
Exhibition on Screen: Rembrandt (Encore)
()
4/14/2019
- 1 hr. 35 mins.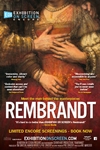 Every Rembrandt exhibition is eagerly anticipated but this major show hosted by London's National Gallery and Amsterdam's Rijksmuseum was an event like no other. Given privileged access to both galleries the film documents this landmark exhibition, whilst interweaving Rembrandt's life story, with behind-the-scenes preparations at these world famous institutions. Exploring many of the exhibition's key works, through contributions from specially invited guests including curators and leading art historians, this EXHIBITION ON SCREEN favourite makes a welcome return to the big screen marking the 350th anniversary of Rembrandt's death. For many, Rembrandt is the greatest artist that ever lived and this deeply moving film seeks to explore the truth about the man behind the legend.
Official Site
Trailer
---
Klimt & Schiele: Eros and Psyche
(NR)
4/28/2019
Lorenzo Richelmy
- 1 hr. 30 mins.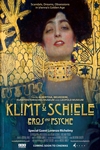 As the roar of the First World War cannons is dying out, in Vienna, the heart of Central Europe, a golden age comes to an end. The Austro-Hungarian Empire is beginning to disintegrate. On the night of October 31st, in the bed of his home, Egon Schiele dies, one of the 20 million deaths caused by the Spanish flu. He dies looking at the invisible evil in the face, in the only way he can do: painting it. He is 28 years old. Only a few months earlier, the main hall of the Secession building had welcomed his works: 19 oil paintings and 29 drawings. His first successful exhibition, a celebration of a new painting idea that portrays the restlessness and desires of mankind. A few months earlier, his teacher and friend Gustav Klimt had died. From the turn of the century, he had fundamentally changed the feeling of art and founded a new group: the Secession.
Official Site
Trailer
---
Bolshoi Ballet: Carmen Suite / Petrushka
()
5/19/2019
- 2 hr. 20 mins.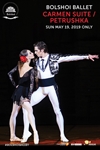 Captured live the same day from the Bolshoi Ballet in Moscow, Carmen Suite / Petrushka comes to U.S. cinemas on Sunday, June 3 only. Carmen is as sensual and free-spirited as ever as she finds herself caught in a love triangle. The passionate one-act ballet by Cuban choreographer Alberto Alonso, originally conceived for legendary Bolshoi prima ballerina Maya Plisetskaya, will captivate audiences alongside Petrushka, a new creation for the Bolshoi by contemporary choreographer Edward Clug. The double-bill event for cinemas encapsulates and showcases the soul of Russian Ballet.
Official Site
Trailer
---
Exhibition on Screen: Van Gogh & Japan
(NR)
6/9/2019
- 1 hr. 25 mins.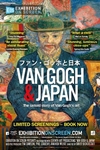 "I envy the Japanese" Van Gogh wrote to his brother Theo. In the exhibition on which this film is based - VAN GOGH & JAPAN at the Van Gogh Museum in Amsterdam - one can see why. Though Vincent van Gogh never visited Japan it is the country that had the most profound influence on him and his art. One cannot understand Van Gogh without understanding how Japanese art arrived in Paris in the middle of the 19th century and the profound impact it had on artists like Monet, Degas and, above all, Van Gogh.
Visiting the new galleries of Japanese art in Paris and then creating his own image of Japan - through in-depth research, print collecting and detailed discussions with other artists - Van Gogh's encounter with Japanese artworks gave his work a new and exciting direction. After leaving Paris for the south of France - to what he thought of as near to a kind of Japan as he could find - the productive and yet troubled years that followed must all be seen in the context of Van Gogh bending Japanese influences to his will and defining himself as a modern artist with clear Asian precursors. In this overlooked story of Van Gogh's art we see just how important his study of Japan was.
The film travels not only to France and the Netherlands but also to Japan to further explore the remarkable heritage that so affected Van Gogh and made him the artist we know of today.
Official Site
Trailer
---
Water Lilies by Monet - The Magic of Water and Light
()
6/23/2019
- 1 hr. 20 mins. Official Site
Trailer
---