National Theatre Live: Medea
(NR)
9/4/2014
Helen McCrory
-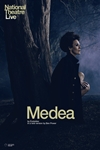 Terrible things breed in broken hearts.
Medea is a wife and a mother. For the sake of her husband, Jason, she's left her home and borne two sons in exile. But when he abandons his family for a new life, Medea faces banishment and separation from her children. Cornered, she begs for one day's grace.
It's time enough. She exacts an appalling revenge and destroys everything she holds dear.
Official Site
Trailer
---
The Last of Robin Hood
(R)
9/5/2014
Rated for some sexuality and language

Dakota Fanning, Susan Sarandon
- 1 hr. 34 mins.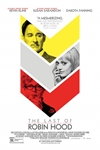 Errol Flynn, the swashbuckling Hollywood star and notorious ladies' man, flouted convention all his life, but never more brazenly than in his last years when, swimming in vodka and unwilling to face his mortality, he undertook a liaison with an aspiring actress, Beverly Aadland. The two had a high-flying affair that spanned the globe and was enabled by the girl's fame-obsessed mother, Florence. It all came crashing to an end in October 1959, when events forced the relationship into the open, sparking an avalanche of publicity castigating Beverly and her mother – which only fed Florence's need to stay in the spotlight.
Official Site
Trailer
---
The Drop
(R)
9/12/2014
Tom Hardy, Noomi Rapace
-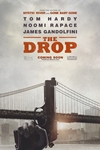 This film takes an inside look at organized crime's use of local New York City bars as money-laundering 'drops'. When lonely Brooklyn bartender Bob Saginowski uncovers a drop of a different sort in the form of a battered pit bull puppy that he rescues from certain death, he comes into contact with Nadia, a mysterious woman hiding a dark past.
Official Site
Trailer
---
National Theatre Live: A Streetcar Named Desire
(NR)
9/16/2014
Gillian Anderson, Ben Foster
- 3 hr. 0 mins.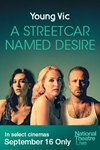 Fathom Events, BY Experience and National Theatre Live invite you to Tennessee Williams' timeless masterpiece, A Streetcar Named Desire broadcast to select cinemas nationwide directly from London's Young Vic Theatre in an extraordinary one night event, Tuesday, September 16.
The profound and lyrical plays of Tennessee Williams had an immeasurable impact on American theatre, and A Streetcar Named Desire is one of the most influential of all. With Gillian Anderson (The X-Files, The Fall) as Blanche DuBois, Ben Foster (Lone Survivor, Kill Your Darlings) as Stanley and Vanessa Kirby (BBC's Great Expectations, Three Sisters at the Young Vic) as Stella. Benedict Andrews directs the fastest-selling production in the Young Vic's history.
Official Site
Trailer
---
Love Is Strange
(R)
9/19/2014
Rated for language

Marisa Tomei, John Lithgow
- 1 hr. 38 mins.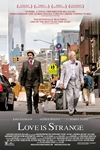 After 39 years together, Ben and George finally tie the knot in an idyllic wedding ceremony in lower Manhattan. But when news of their marriage reaches the Catholic school where George works, he is fired from his longtime job and the couple can no longer afford their New York City apartment. As a temporary solution, George moves in with the two gay cops next door, while Ben moves to Brooklyn to live with his nephew Eliot, Eliot's wife, Kate, and their teenage son. As Ben and George struggle to secure a new apartment, the pain of living apart and their presence in two foreign households test the resilience and relationships of all involved.
Official Site
Trailer
---
My Old Lady
(PG-13)
9/19/2014
Rated for thematic material and some sexual references

Kevin Kline, Maggie Smith
- 1 hr. 47 mins.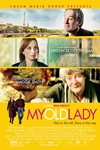 Mathias inherits a Parisian apartment from his estranged father. But when he arrives in France to sell it, he discovers a tenant who is not prepared to budge. His apartment is a viager - an ancient French real estate system with complex rules about its resale - and feisty Mathilde, who has lived there with her daughter Chloé for years, can by contract collect payments from Mathias until her death. With no place to go, Mathias stays with Mathilde, instantly clashing with Chloé over his dealings with a property developer who wants the apartment. However, Mathias and Chloé discover a common ground of childhood pain and neglect. As they grow closer, Mathilde unveils a complex labyrinth of secrets that unites the trio in unexpected ways.
Official Site
Trailer
---
The Notebook (A nagy fuzet)
(R)
9/26/2014
Rated for disturbing violent and sexual content, nudity and language

András Gyémánt, László Gyémánt
- 1 hr. 35 mins.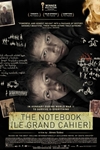 Towards the end of World War II, people in big cities are at the mercy of air raids and death by starvation. A desperate young mother leaves her 13-year-old twin sons at their grandmother's house in the country, despite the fact that this grandmother is a cruel and bestial alcoholic. The villagers call her "the Witch" because she is rumored to have poisoned her husband long ago. Previously pampered, the twins must learn how to survive alone in their new, rural surroundings. They realize that the only way to cope with the absurd and inhumane world of adults and war is to become completely unfeeling and merciless.
Official Site
Trailer
---
Pride
(NR)
10/3/2014
Bill Nighy, Andrew Scott
- 2 hr. 0 mins.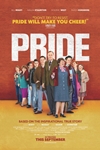 This film is inspired by an extraordinary true story. It's the summer of 1984, Margaret Thatcher is in power and the National Union of Mineworkers is on strike, prompting a London-based group of gay and lesbian activists to raise money to support the strikers' families. Initially rebuffed by the Union, the group identifies a tiny mining village in Wales and sets off to make their donation in person. As the strike drags on, the two groups discover that standing together makes for the strongest union of all.
Official Site
Trailer
---
Hector and the Search for Happiness
(R)
10/3/2014
Rated for language and some brief nudity

Simon Pegg, Toni Collette
- 1 hr. 59 mins.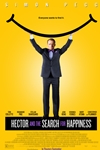 Hector is a quirky psychiatrist who has become increasingly tired of his humdrum life. As he tells his girlfriend, Clara, he feels like a fraud: he hasn't really tasted life, and yet he's offering advice to patients who are just not getting any happier. So Hector decides to break out of his deluded and routine driven life. Armed with buckets of courage and child-like curiosity, he embarks on a global quest in hopes of uncovering the elusive secret formula for true happiness. And so begins a larger than life adventure with riotously funny results
Official Site
Trailer
---
National Theatre Live: Skylight
(NR)
10/23/2014
Carey Mulligan, Bill Nighy
- 3 hr. 0 mins.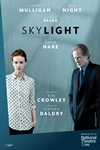 Bill Nighy and Carey Mulligan feature in the highly anticipated production of David Hare's Skylight, directed by Stephen Daldry, broadcast live from the West End by National Theatre Live.
On a bitterly cold London evening, schoolteacher Kyra Hollis (Carey Mulligan) receives an unexpected visit from her former lover, Tom Sergeant (Bill Nighy), a successful and charismatic restaurateur whose wife has recently died.
As the evening progresses, the two attempt to rekindle their once passionate relationship only to find themselves locked in a dangerous battle of opposing ideologies and mutual desires.
Official Site
Trailer
---
Bolshoi Ballet: The Legend of Love LIVE (2014)
(NR)
10/26/2014
- 3 hr. 45 mins.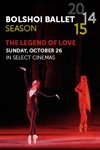 Experience the excitement and beauty of world-class performances when the Bolshoi Ballet's The Legend of Love is broadcast to select cinemas nationwide on Sunday, October 26. This tale of forbidden love, self-sacrifice, jealousy and suffering is one of Russian master Yuri Grigorovich's earliest choreographic works. Featuring dances, sets and costumes inspired by the Middle East, this stunning ballet is further enriched by the talent of the Bolshoi troupe.
Official Site
Trailer
---
Whiplash
(R)
11/21/2014
Rated for strong language including some sexual references

Miles Teller, J.K. Simmons
- 1 hr. 45 mins. Andrew Neyman, a young jazz drummer who attends one of the best music schools in the country under the tutelage of the school's fearsome maestro of jazz named Terence Fletcher struggles to make it as a top jazz drummer.
Official Site
Trailer
---
Wild
(R)
12/5/2014
Rated for sexual content, nudity, drug use, and language

Reese Witherspoon, Laura Dern
-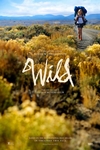 With the dissolution of her marriage and the death of her mother, Cheryl Strayed has lost all hope. After years of reckless, destructive behavior, she makes a rash decision. With absolutely no experience, driven only by sheer determination, Cheryl hikes more than a thousand miles of the Pacific Crest Trail, alone. WILD powerfully captures the terrors and pleasures of one young woman forging ahead against all odds on a journey that maddens, strengthens, and ultimately heals her.
Official Site
Trailer
---
Foxcatcher
(R)
12/19/2014
Rated for some drug use and a scene of violence

Channing Tatum, Steve Carell
- 2 hr. 10 mins.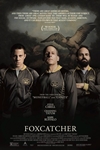 Based on shocking true events, this film is a psychological thriller which tells the fascinating story of Olympic gold medal-winning brothers Mark and Dave Schultz and their tragic relationship with a multi-millionaire benefactor, John du Pont.
Official Site
Trailer
---
Bolshoi Ballet: The Nutcracker Live (2014)
(NR)
12/21/2014
The Bolshoi Principals, Soloists and Corps de Ballet
- 3 hr. 0 mins.
Experience the excitement and beauty of world-class performances when the Bolshoi Ballet's The Nutcracker is broadcast to select cinemas nationwide on Sunday, December 21. On Christmas Eve, Marie is given a wooden nutcracker carved in the shape of a little man. At midnight, when the celebrations are over, all the toys magically come to life. The nutcracker grows to human size and takes charge of the tin soldiers, flying to the rescue of Marie, who is threatened by the Mouse King and his army.
Official Site
Trailer
---
National Theatre Live: Treasure Island
(NR)
1/22/2015
-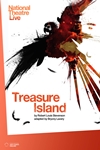 Robert Louis Stevenson's story of murder, money and mutiny is brought to life in a thrilling new stage adaptation by Bryony Lavery, broadcast live from the National Theatre. It's a dark, stormy night. The stars are out. Jim, the inn-keeper's granddaughter, opens the door to a terrifying stranger. At the old sailor's feet sits a huge sea-chest, full of secrets. Jim invites him in - and her dangerous voyage begins.
Official Site
Trailer
---
Bolshoi Ballet: Swan Lake LIVE (2015)
(NR)
1/25/2015
- 3 hr. 20 mins.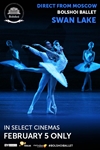 Experience the excitement and beauty of world-class performances when the Bolshoi Ballet's Swan Lake is broadcast to select cinemas nationwide on Sunday, January 25. At the palace, the royal family and their guests are gathered for Prince Siegfried's birthday celebrations. Feeling overwhelmed, the Prince escapes into the night and meets a strange flock of swans by a magical lake. Swan by day, human by night, the beautiful Odette awaits an oath of true love to break the curse.
Official Site
Trailer
---
Mr. Turner
(R)
1/30/2015
Rated for some sexual content

Timothy Spall, Roger Ashton-Griffiths
- 2 hr. 29 mins. This film explores the last quarter century of the great if eccentric British painter J.M.W. Turner (1775-1851). Profoundly affected by the death of his father, loved by a housekeeper he takes for granted and occasionally exploits sexually, he forms a close relationship with a seaside landlady with whom he eventually lives incognito in Chelsea, where he dies.
Throughout this, he travels, paints, stays with the country aristocracy, visits brothels, is a popular if anarchic member of the Royal Academy of Arts, has himself strapped to the mast of a ship so that he can paint a snowstorm, and is both celebrated and reviled by the public and by royalty.
Official Site
Trailer
---
The Best Exotic Marigold Hotel 2
(PG)
3/6/2015
Rated for some language and suggestive comments

Judi Dench, Maggie Smith
- THE BEST EXOTIC MARIGOLD HOTEL 2 is the expansionist dream of Sonny, and it's making more claims on his time than he has available, considering his imminent marriage to the love of his life, Sunaina. Sonny has his eye on a promising property now that his first venture, The Best Exotic Marigold Hotel for the Elderly and Beautiful, has only a single remaining vacancy-posing a rooming predicament for fresh arrivals Guy and Lavinia. Evelyn and Douglas have now joined the Jaipur workforce, and are wondering where their regular dates for Chilla pancakes will lead, while Norman and Carol are negotiating the tricky waters of an exclusive relationship, as Madge juggles two eligible and very wealthy suitors. Perhaps the only one who may know the answers is newly installed co-manager of the hotel, Muriel, the keeper of everyone's secrets. As the demands of a traditional Indian wedding threaten to engulf them all, an unexpected way forward presents itself.
Official Site
Trailer
---
Bolshoi Ballet: Ivan the Terrible LIVE (2015)
(NR)
4/19/2015
- 2 hr. 15 mins.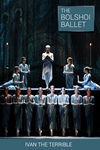 As young Ivan IV is crowned, he has to choose one of the 13 Boyar daughters to be his wife and tsarina. He selects Anastasia, and the two eventually fall deeply in love. When the Boyars plot against him and poison his beloved wife, Tsar Ivan finds himself surrounded by enemies. Haunted by dark thoughts and phantoms, he slowly sinks into madness.
Drawing on the music composed by Prokofiev for the 1944 Eisenstein film, Ivan the Terrible is a work in the true Bolshoi style. Yuri Grigorovich's powerful and fascinating epic dramatises Ivan the Terrible's controversial reign, and portrays events in 16th-century Russia in visually stunning scenes. His choreography, full of vigour, strength and wild jumps, also includes great grace and fragility in the female roles. Sensitive classical and powerful character dance blend to create a lyrical epic, rich in the colours of medieval Russia.
Recently revived, Ivan the Terrible is an essential part of the company's repertoire, a 20th-century classic and a wonderful theatrical experience.
Official Site
Trailer
---