The Railway Man
(R)
4/25/2014
Rated for disturbing prisoner of war violence

Nicole Kidman, Stellan Skarsgård
- 1 hr. 56 mins.
Based on his best-selling memoir, The film tells the extraordinary and epic true story of Eric Lomax, a British Army officer who is tormented as a prisoner of war at a Japanese labour camp during World War II. Decades later, Lomax discovers that the Japanese interpreter he holds responsible for much of his treatment is still alive and sets out to confront him, and his haunting past.
Official Site
Trailer
---
Only Lovers Left Alive
(R)
4/25/2014
Rated for language and brief nudity

Tom Hiddleston, Tilda Swinton
- 2 hr. 3 mins.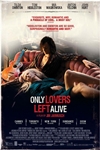 Set against the romantic desolation of Detroit and Tangier, an underground musician, deeply depressed by the direction of human activities, reunites with his resilient and enigmatic lover. Their love story has already endured several centuries at least, but their debauched idyll is soon disrupted by her wild and uncontrollable younger sister. Can these wise but fragile outsiders continue to survive as the modern world collapses around them?
Official Site
Trailer
---
Fading Gigolo
(R)
4/25/2014
Rated for some sexual content, language and brief nudity

Sofía Vergara, Woody Allen
- 1 hr. 30 mins.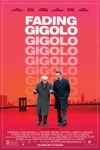 Murray talks his friend Fioravante into becoming a gigolo as a way of making some much needed cash after an out-of-the-blue request from his dermatologist. With Murray acting as Fioravante's "manager", the duo quickly finds themselves caught up in the crosscurrents of love and money.
Official Site
Trailer
---
Walking With The Enemy
(NR)
4/25/2014
Jonas Armstrong, Hannah Tointon
-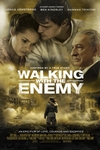 Inspired by a true story, this film is an unforgettable film of love, courage, and sacrifice. Set in Hungary during the final months of World War ll, a young man sets out to find his displaced family by stealing a Nazi uniform to pose as an officer. Filled with suspense and danger, he undertakes extraordinary measures to reroute his family and other Jews to safety by disrupting the activities of the German occupiers.
Official Site
Trailer
---
The German Doctor (Wakolda)
(PG-13)
5/2/2014
Rated for thematic material and brief nudity

Natalia Oreiro, Àlex Brendemühl
- 1 hr. 32 mins.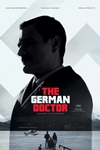 Patagonia, 1960. A German doctor meets an Argentinean family and follows them on a long desert road to a small town where the family will be starting a new life. Eva, Enzo, and their three children welcome the doctor into their home and entrust their young daughter, Lilith, to his care, not knowing that they are harboring one of the most dangerous criminals in the world. At the same time, Israeli agents are desperately looking to bring the German doctor to justice.
Official Site
Trailer
---
Belle
(PG)
5/9/2014
Rated for thematic elements, some language and brief smoking images

Gubu Mbatha-Raw, Tom Wilkinson
- 1 hr. 45 mins.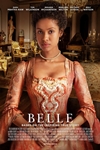 This film is inspired by the true story of Dido Elizabeth Belle, the illegitimate mixed race daughter of Admiral Sir John Lindsay. Raised by her aristocratic great-uncle Lord Mansfield and his wife, Belle's lineage affords her certain privileges, yet her status prevents her from the traditions of noble social standing. While her cousin Elizabeth chases suitors for marriage, Belle is left on the sidelines wondering if she will ever find love. After meeting an idealistic young vicar's son bent on changing society, he and Belle help shape Lord Mansfield's role as Lord Chief Justice to end slavery in England.
Official Site
Trailer
---
Chef
(NR)
5/23/2014
Jon Favreau, Sofia Vergara
- 1 hr. 55 mins.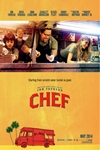 Chef Carl Casper suddenly quits his job at a prominent Los Angeles restaurant after refusing to compromise his creative integrity for its controlling owner, he is left to figure out what's next. Finding himself in Miami, he teams up with his ex-wife, his friend and his son to launch a food truck. Taking to the road, Chef Carl goes back to his roots to reignite his passion for the kitchen -- and zest for life and love.
Official Site
Trailer
---
Words and Pictures
(PG-13)
6/6/2014
Rated for sexual material including references, drug content, violence and some mature thematic material

Clive Owen, Juliette Binoche
- 1 hr. 41 mins.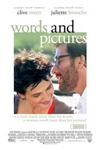 Prep school English teacher Jack Marcus laments his students' obsession with social media and good grades rather than engaging with the power of the written word. A one-time literary star, Jack has not published in years filling his time with drink versus the art of language. He meets his match in Dina Delsanto - a painter and new teacher on campus, who was once celebrated for her art. The two flirt and provoke each other with equal relish.
Jack hatches a plan for galvanizing student interest in their studies: he declares a war between Words and Pictures, confident that the former can convey greater meaning than the latter. Dina and her art students accept the challenge between Jack and his English students, and the battle lines are drawn.
Official Site
Trailer
---
Caesar & Cleopatra (2009)
(NR)
7/10/2014
Christopher Plummer, Nikki M. James
- 1 hr. 55 mins.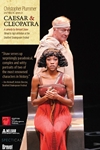 A witty and seductive comedy about the relationship between a veteran Roman political strategist and an enchanting Egyptian teenage queen.
" Now movie audiences can witness the acclaimed performance of legendary Canadian actor Christopher Plummer, and experience the drama, intrigue and comedy of George Bernard Shaw's celebrated play. The production also stars Nikki M. James, who later went on to receive the 2011 Tony Award for Best Featured Actress in a Musical for her role as Nabulungi in The Book of Mormon. The high quality production captures the true experience of witnessing Shaw's celebrated play on the prestigious Stratford Festival stage.
Official Site
Trailer
---