The East
(PG-13)
6/7/2013
Rated for thematic elements, violence, some disturbing images, sexual content and partial nudity

Alexander Skarsgård, Ellen Page
- 116 min.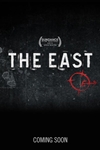 Former FBI agent Sarah Moss has begun working at an elite private intelligence firm that ruthlessly protects the interests of its A-list corporate clientele. When selected to go undercover to infiltrate The East, an elusive anarchist collective seeking revenge against major corporations guilty of criminal activity, Sarah finds herself torn between the two worlds...
Official Site
Trailer
---
Before Midnight
(R)
6/14/2013
Rated for sexual content/nudity and language

Ethan Hawke, Julie Delpy
- 108 min.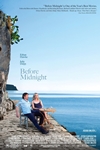 We meet Celine and Jesse nine years after their last rendezvous. Almost two decades have passed since their first encounter on a train bound for Vienna, and we now find them in their early forties in Greece. Before the clock strikes midnight, we will again become part of their story.
Official Site
Trailer
---
Fill the Void (Lemale et ha'halal)
(PG)
6/14/2013
Rated for mild thematic elements and brief smoking

Hadas Yaron, Yiftach Klein
- 90 min.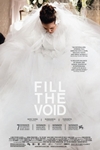 An intimate, insightful, respectful and moving film which follows life among the ultra-Othodox Haredim Jewish community in Tel Aviv, Israel. The well-to-do family of Rabbi Aharon suffers a tragedy when his daughter Esther dies in childbirth. A younger daughter, Shira, 18, is pressured by her mother to marry her deceased sister's husband.
Official Site
Trailer
---
EXHIBITION: Munch 150
(NR)
6/27/2013
,
- 80 min.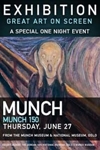 This year, all of Norway celebrates the 150th anniversary of the birth of Edvard Munch (1863 - 1944), one of the towering figures of modern art.
This is already being hailed a "once-in-a-lifetime show". Global interest is huge - not least as a result of one of his four paintings of The Scream having recently set a public art auction record of $120 million. Many know Munch as the man who painted The Scream, but his complete works are remarkable and secure his place as one of the greatest artists to have ever lived.
Official Site
Trailer
---
I'm So Excited (Los amantes pasajeros)
(R)
7/19/2013
Rated for strong sexual content including crude references, and drug use

Penélope Cruz, Antonio Banderas
- 102 min.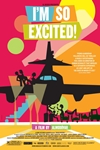 When a group of passengers aboard a plane fear for their lives, they reveal their deepest, darkest secrets.
Official Site
Trailer
---
Blue Jasmine
(PG-13)
8/16/2013
Rated for mature thematic material, language and sexual content

Vanessa Ross, Cate Blanchett
- min. A New York housewife struggles through a life crisis.
Official Site
Trailer
---