| | |
| --- | --- |
| | |
National Theatre Live: Behind the Beautiful Forevers
(NR)
3/12/2015
Pal Aron, Hiran Abeysekera
- 2 hr. 40 mins.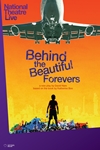 India is surging with global ambition. But beyond the luxury hotels surrounding Mumbai airport lies a makeshift slum, full of people with plans of their own. Zehrunisa and her son Abdul aim to recycle enough rubbish to fund a proper house. Sunil, twelve and stunted, wants to eat until he's as tall as Kalu the thief. Asha seeks to steal government anti-poverty funds to turn herself into a 'first-class person', while her daughter Manju intends to become the slum's first female graduate. But their schemes are fragile; global recession threatens the garbage trade, and another slum-dweller is about to make an accusation that will destroy herself and shatter the neighbourhood.
Official Site
Trailer
---
National Theatre Live: A View from the Bridge
(NR)
3/26/2015
Mark Strong, Emun Elliott
- 1 hr. 55 mins.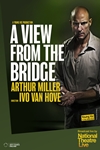 The great Arthur Miller confronts the American dream in this dark and passionate tale. In Brooklyn, longshoreman Eddie Carbone welcomes his Sicilian cousins to the land of freedom. But when one of them falls for his beautiful niece, they discover that freedom comes at a price. Eddie's jealous mistrust exposes a deep, unspeakable secret - one that drives him to commit the ultimate betrayal.
The visionary Ivo van Hove directs this stunning production of Miller's tragic masterpiece, broadcast from London's West End by National Theatre Live.
Official Site
Trailer
---
National Theatre Live: The Hard Problem
(NR)
4/16/2015
Kristin Atherton, Anthony Calf
- 3 hr. 0 mins.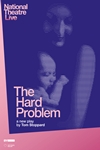 Hilary, a young psychology researcher at a brainscience institute, is nursing a private sorrow and a troubling question at work, where psychology and biology meet. If there is nothing but matter, what is consciousness? This is 'the hard problem' which puts Hilary at odds with her colleagues who include her first mentor Spike, her boss Leo and the billionaire founder of the institute, Jerry. Is the day coming when the computer and the fMRI scanner will answer all the questions psychology can ask? Meanwhile Hilary needs a miracle, and she is prepared to pray for one.
Official Site
Trailer
---
National Theatre Live: Man and Superman
(NR)
5/14/2015
Ralph Fiennes, Elliot Barnes-Worrell
- 4 hr. 0 mins.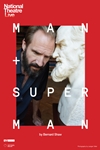 Jack Tanner, celebrated radical thinker and rich bachelor, seems an unlikely choice as guardian to the alluring heiress, Ann. But she takes it in her assured stride and, despite the love of a poet, she decides to marry and tame this dazzling revolutionary.
Tanner, appalled by the whiff of domesticity, is tipped off by his chauffeur and flees to Spain, where he is captured by bandits and meets The Devil. An extraordinary dream-debate, heaven versus hell, ensues. Following in hot pursuit, Ann is there when Tanner awakes, as fierce in her certainty as he is in his.
A romantic comedy, an epic fairytale, a fiery philosophical debate, Man and Superman asks fundamental questions about how we live.
Official Site
Trailer
---
National Theatre Live: Everyman
(NR)
7/16/2015
Chiwetel Ejiofor
- 1 hr. 30 mins.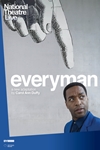 Everyman is successful, popular and riding high when Death comes calling. He is forced to abandon the life he has built and embark on a last, frantic search to recruit a friend, anyone, to speak in his defence. But Death is close behind, and time is running out.
One of the great primal, spiritual myths, Everyman asks whether it is only in death that we can understand our lives. A cornerstone of English drama since the 15th century, it now explodes onto the stage in a startling production with words by Carol Ann Duffy, Poet Laureate, and movement by Javier De Frutos.
Official Site
Trailer
---